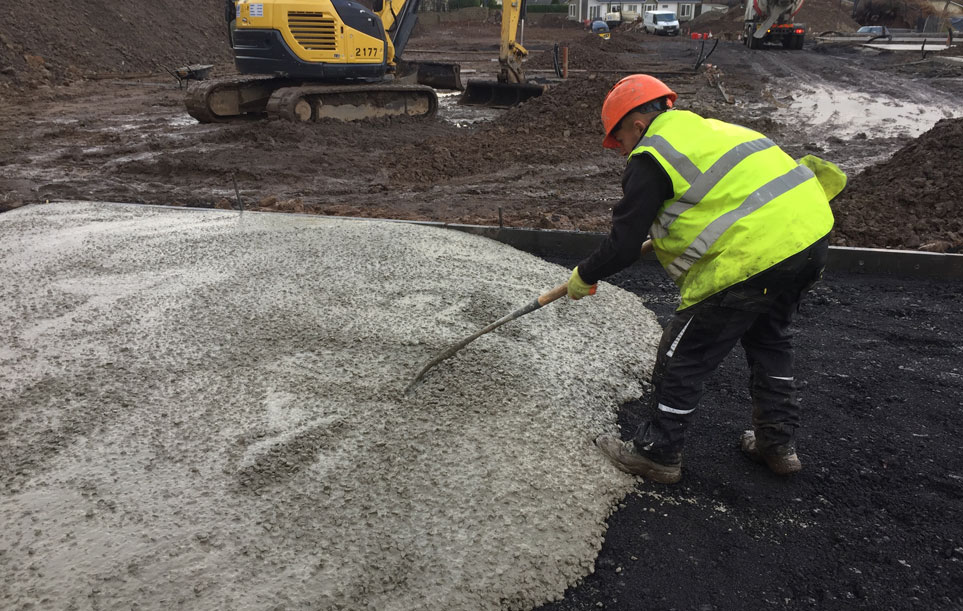 Good foundations are the key to success
Concrete is a composite material composed of fine and coarse aggregate bonded together with a fluid cement, which produces a manageable liquid of any desired consistency.
When the concrete has been manoeuvred to where its needed it dries to create a solid matter, perfect for residential driveways, sub bases, house foundations, walls, paving and many other things.
Blackoak are experienced and skilled in all aspects of concreting and concrete solutions.
On larger projects we use inspectors with the site survey who take measurements of all the required levels, which are then recorded and then collaborated with the client. Expansions joints are created and plans for the locations of this are prepared prior to installation.
All appropriate structural design and shuttering plans are prepared carefully to produce a quality end finish to correct levels and falls.
Reinforced Concrete
Concrete is strong under compression, but has weak tensile strength when used alone. In certain situations such as footings, bridges and other structures, in times like this it needs extra strength.
Rebar (short for reinforcing bar), known as reinforcing steel, is a steel bar or mesh of steel wires used to strengthen the concrete. The bars are stretched and then the -concrete is set around them, when it has solidified the tension on the bars is released and as a result it compresses the concrete giving it extra strength through the tension. Concrete
Rebar significantly increases the overall strength of the structure or footing. There are patterns in the Rebar help to form a better bond with the concrete as it helps them grip together when everything is set.
We can also offer different finishing options for your concrete areas:
Trowel or floating (manually or mechanically)
Broom finish
Salt finish
Concrete colouring