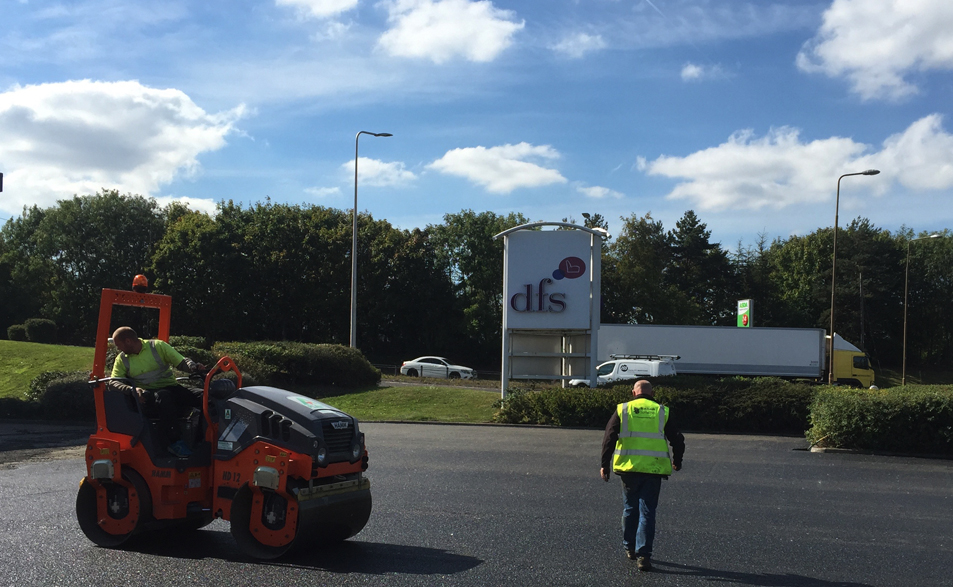 The job was to resurface a large car park and plan and construct a drainage system to solve the major flooding problem the car park was having, which prevented customers visiting the store.
Firstly we visited the site and performed an extensive site survey to determine the high and low points of the car park.
When this was completed we planned where the drainage would go and marked this clearly.
We then set up a safe working area. This was done in sections, as we had to keep parts of the car park open during works.
Trenches and holes were excavated to allow for pipe work and gullies to be installed. This was done six times and all drainage pipes ran back into existing drains. All waste collected from the excavations were relocated to an appropriate area on site before being collected from a grab lorry.
Once installed all gullies were checked to ensure they ran efficiently and effectively.
Sections were cut with a road saw at the entrance of the car park to allow the surface course to tie into the existing road surface.
A tack coat emulsion was then applied to the complete surface area of the car park by a machine.
A machine paver then laid asphalt. A total of 200 tonnes was laid and compacted with a 120 sit on roller. All edges and tight spots not accessible by the roller were compacted with a compactor plate.
Car parking bays and direction arrows were then painted on before the car park was reopened.
The car park no longer has any flood issues, which will give the new surface layer a longer life expectancy and not deter customers from visiting the store.